Conservative dentistry
Conservative dentistry
Procedures in the field of conservative dentistry consist in filling tooth cavities resulting from caries, mechanical injuries or tooth developmental defects.
The performed procedure rebuilds the tooth and improves its aesthetics. For this purpose, dentists at the EuroDent Dentistry Center use modern equipment and high-quality composite filling materials. Accurate performance of the procedure recreates the external structure of the tooth. The place of filling is completely invisible. The procedures can be performed under surface, infiltration, block anesthesia or with the use of a Wand computer, making the procedure completely painless.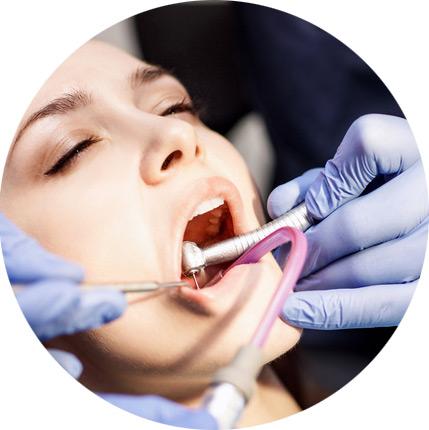 A few words about fillings:
Fillings, colloquially known as a 'seal', is in fact a composite material. Modern materials allow for the selection of a color similar to the color of the tooth and the strength depending on which teeth the filling concerns (front or molar).
The fillings are layered and light-cured using a special polymerization lamp. Thanks to this, you do not have to wait for the material to bind, and you can eat the meal immediately after visiting the dentist.
The factor affecting the filling is the type of material used, the size of the filling and the time required. In the case of the reconstruction of large structures of molars, the dentist restores their natural appearance and grinds the reconstructed tooth "cusps" so that they do not collide with the opposite tooth.